Easi-Pour 650B
Easi Pour's 650B is the most versatile machine of its size on the market today. The 650B is capable of all curb and gutter configurations, sidewalks and recreational paths to 4' (1.2 m) wide, and radii to 24" (610 mm). The 650B is designed with ergonomics, transportability, safety, and simplicity in mind. The 650B has a removable trimmer which is mounted in place of the mold. This allows the 650B to focus on two of the most important parts of the job at separate times, establishing perfect grade and perfect concrete every time.
The Easi Pour 650B is the ONLY machine in its class of mid-size machines. With the on-board high pressure water system, 4 circuit hydraulic vibrator control, 30 gallon fuel capacity, 60 gallon hydraulic oil capacity and 4 sliding legs are several items that make the 650B the most versatile machine on the market.
The Easi Pour 650B is designed to give you everything you need in a curb & gutter machine and remain the most affordable machine in the industry. The 650B is delivered with everything you need for the job including Easi-Pour manufactured sensors, cords, steering & elevation wands, 3 vibrators, and a mold built to customer specifications to create a hassle free buying experience. String line packages are also available upon request.

4-Wheel Variable Positive Traction Drive
4-Post Sliding Legs for Ultimate Flexibility
All Wheel Steering
Best Operator Visibility in the Industry
Foam Filled Tires add Stability and Eliminate Downtime
Variable Speed Loading Conveyor Keeps Safe Distance Between Concrete Truck, Laborers, and Machine
Light Kit Increases Productivity for Pouring at Dusk or Dawn
38" (965 mm) Wide Removable Trimmer
Simple Machine Setup Increase Jobsite Efficiency
Tight Radii to 24"(610 mm)
4 Leg Design Increases Stability and Safety
E-Stops in 4 Locations Around Machine
Transport with Mold in Place
Standard Equipment

John Deere 80Hp 4045D FT4 Diesel Engine
Water Cooled
3 Hydraulic Vibrators
4 Sensors and 4 Sensor Cords
2 Elevation Wands and 2 Steering Wands
Variable Speed Hydraulic Loading Conveyor with Lift Cylinder
4 Hydraulic Vibrator Circuits and Controls
1 Customer Design Curb Mold
---
Optional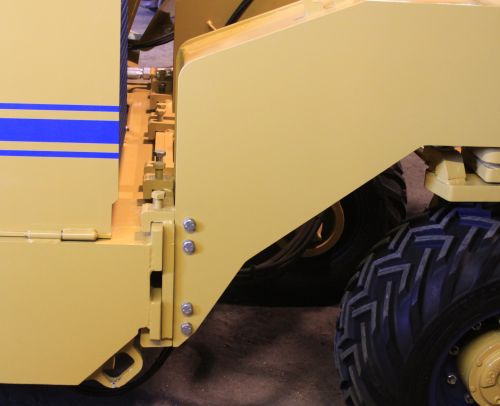 4 Post Slide - Increase Your Range of Set Up Possibilities
---
Optional Water Systems
Hydraulic Driven High Pressure Water System – Includes: Pressure Pump, Hose, and Wand
---
Additional
38" (965 mm) Fine Grade Removable Trimmer
Foam Filled Tires
Light Kit
Custom Paint - Paint Your 650B to Match the Rest of Your Equipment Fleet
Anti-Theft Package – Provides Strategic Lockouts and Compartment Covers to Deter Theft
Engine Options

John Deere 4045D 80 HP
Final Tier 4 Available Upon Request
---
Wheel Size & Drive
Tires: 31 x 15.5 x 15 - 8 ply foam filled
Drive: 4 wheel positive traction
---
Fuel & Oil Capacity
Fuel: 30 gallons (113 liters)
Oil Reservoir: 60 gallons (227 liters)
---
Dimensions
Length: 18' (5.5m) includes conveyor
Height: 7' (2.1m)
Width: 8' 4" (2.5m) transport width
---
Weight
---